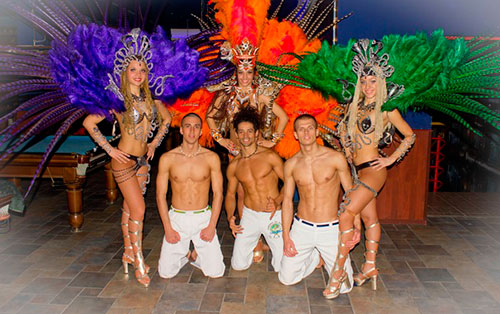 Number of artists from the 7 - to 50.
The band was founded in 2004 and during its existence, they toured many cities of Russia and near abroad. Participated in the carnival in Germany and Hungary. Large experience with clubs, including the preparation of special programs club music.
The structure of the show includes artists from Russia, Africa, Cuba and Brazil, with a stunning energy, impeccable sense of rhythm and perfect possession of his body. The program can consist of several clusters and a master class. Duration from 20 minutes to half an hour depending on the number of artists and fullness of the program.
Besides girls dancers may participate black fighters acrobats and African drummers.
Full entertainment program for the evening of 15 people, one and a half hours duration, includes women's dance show, male acrobatic show, drum show.