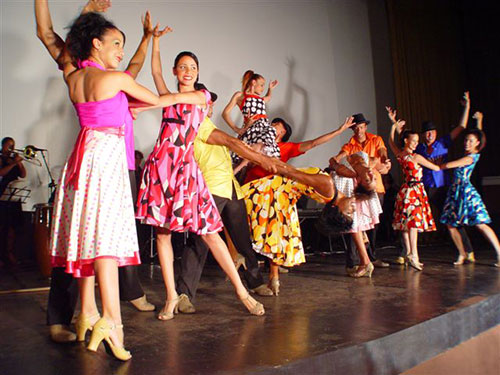 Professional group of dancers, which may include up to 20 dancers.

Styles: music, theater, dance with genres that include: mambo, chachachá, bolero, traditional Cuban, country music, jazz, rumba, yoruba's folklore, salsa, etc.

Work experience:
-Alabanza (American theater, 2008/2009)
-Danzon-International Festival of Son and Danzon in Havana (American theater, 2008/2009)
-Mi Habana (Mella theater 2009/2010)
-Habana de Hoy (Currently touring nationally and internationally)
-Soy Habana

International tours:
-2012-2013 (Europe but mainly France)
-2011 Italy (Europe Tour) Feb 2011 through December 2011
-2010 Italy/France (Summer tour) Several cities all over Italy and Southern coast of France.
-2009 Italy festival tour (Summer Tour) Latin American festival in Assago, Festival of the Tuscolana village in Frascati, Armuia's festival in Castiglioncello, Festival Rapallo, Ariston theater in San Remo, Verdi theater in Montecatini, etc.
-2008-2009 Italy/Switzerland (Winter Tour) Main Theaters Visited: Mancinelli in Orvieto, Italy in Rome, Pavone in Perugia, Comunale in Adria and Ventimiglia, Metropolitan in Palermo and Catania,etc.