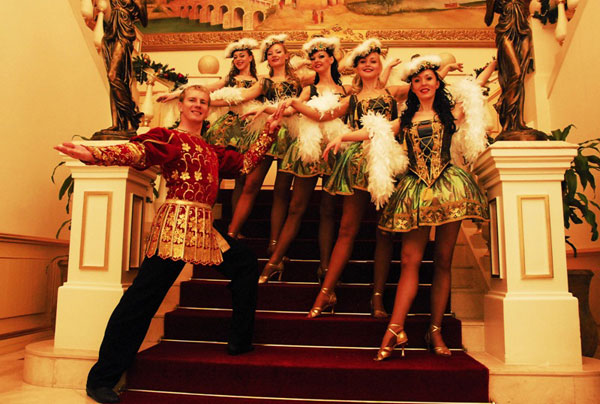 Cast: 8 dancers (6 girls and 2 boys)
Duration: 45, 30 or 20 minute programs (non-stop possible)
Costumes: demi-classic, modern, folk, ballroom, cabaret, techno, hip-hop, R&B.
Dances: Brazil-carnival, Geishas and Samurai, 2 Antre, Lambada, Cancan, Rock-n-roll. Folk dances: Russian, Ukrainian, Moldavian, Tuva, Belarusian, Georgian. Carmen, Persian, Tango, Spanish, Disco, Fiesta Latina, Retro, and the Queen.

Experience
2000 - Present
Hotel "Limra", Antalya, Turkey
Amalthia beach hotel, bar-restaurant, Pafos, Cyprus
Princess-hotel, casino, Sofia, Bulgaria
Club "Agat", Minsk, Belarus
New Years Ice show, Minsk, Belarus
"Las Vegas" night club, Pattaya, Thailand
'Yamaya" night club, Kagoshma, Japan
'Sakurai Shuten" night club, Miyazaki, Japan
Princess-hotel, casino, Belize city, Belize
'Ramee' hotel," night club, Dubai,UAE
Restaurant "Bolshoi", "Moskow" hotel, Dubai, U.A.E.