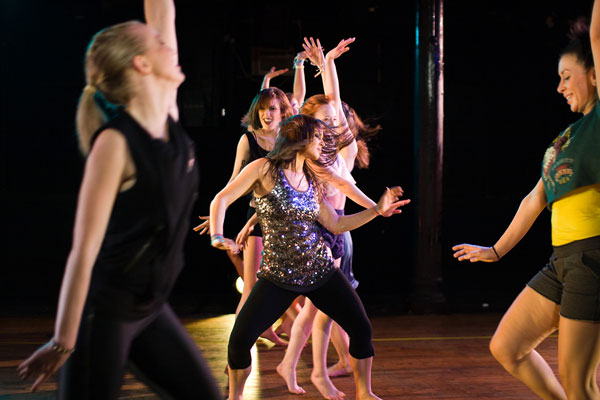 Founder and Director was born in Chicago, IL where he was first introduced to Gymnastics. He began his formal dance training at age 12 in Chicago. Since then he has studied Dance and Direct-ing at NYU, where he received his BFA. He has danced professionally with Damast and Dancers, Linda Dia-mond and Dancers, The Wallis Knot Performance Group, and Malleable Dance Theater. His work has been presented at the Hudson Guild Theater, The Ailey Citigroup Theater, Marquee Nightclub, The New York Conservatory for the Dramatic Arts, and at New York University.

Production History
2011
Art For Art-PS122-August
Ovalicious Mambo (comissoned evening length)-July
Between Two Worlds @HereArts-May
Cirque De La Mer-Nowalk Aquairum - March
The Hamlet Rave at New York University-March
Rite Of Spring Street (Self Produced Evening Length)-January
2010
GreenSpace-December 2010
WAXworks-October 2010
The Rover Soho-Sunday Brunch-July 2010
2009
Dead Celebrity Ball-Latch Key Kids Broadway Benefit-October
Day Of The Dead Touch Night Club-October
One Drop.org/Cirque Du Soleil-Poetry In Motion-October
MUSE: Fashion Week Party Ultra Lounge - September
Moving Beauty Dance Lab-September
The Elan Summer Dance Festival - August
Paper Dance Festival - April
2008
Wet- Wallis Knot Theater - May

The Rite of Spring Street is a journey into the dreamscape and nightmares of life in New York City. explores the collective experience of urban life; the thrill, the heartache, the danger, the ex-cess. Throughout the piece, original tracks and modern classics score the dance work, giving a soundtrack to the diverse and driving heartbeat of New York City
The Rite of Spring Street played for sold out audi-ences in January of 2011 at the CSV: Flamboyan Theater
The Rite of Spring Street

Ovalicious Mambo
July 9th 2011 - R. Dance became the first dance company to be included in the Summer on the Oval Arts Festival in Stuyvasant Town
Commissioned to create and
perform a brand new evening length work. R. Dance performed a family friendly and exhilarating dance for crowds of
hundreds.

Sean and R. Dance were selected to choreograph the New York City portion of "Moving Stars and Earth For Water" - casting, rehearsing, and staging over 175 dancers for a spontaneous dance performance in Times Square for the live evening telecast.
Moving Stars and Earth for Water is an artistic happening broadcast online, organized on the occasion of the Poetic Social Mission seeking to raise everyone's awareness of water-related issues. The Mission is carried out from space by Guy Laliberte, Founder of Cirque du Soleil and President of the ONE DROP Foundation.
This artistic event took us through 14 cities around the world and brings together personalities such as Former U.S. Vice President Al Gore, Dr. David Suzuki, Peter Gabriel, Salma Hayek, Shakira, U2 and many others who join voices with Guy Laliberte to celebrate water.

R. Dance was hired to create a site specific performance for
The Maritime Aquarium of Norwalk during their Red Apple Awards Dinner
Featuring 14 dancers and two aerialists, this two hour performance led to the raising of a record $812,000 for the
Aquarium.