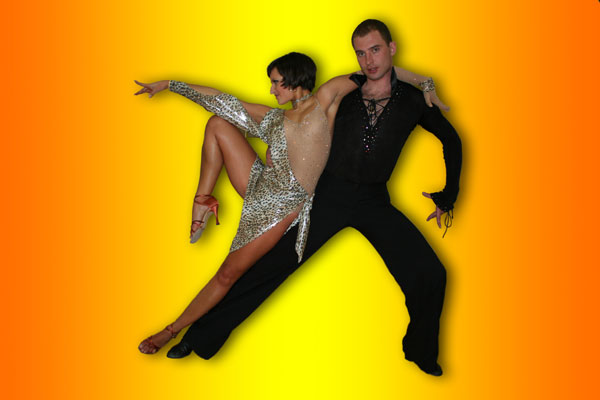 Latin Couple Aleksandr and Alena

"Latin dance"

Latin dance includes a wide range of dances originating in Latin America and Cuba. Examples include the Cha-cha-cha, Rumba, Samba, Salsa, Mambo, Danza, Merengue, Tumba, Bachata, Cumbia, and Bolero. Some also include tango and Argentine Tango in this list, although they differ from the rest in their style. In Argentina tango is not considered folk dance as is the case with dances like chacarera, gato, escondido and zamba. Typical Bolivian folk dances are morenada, kullawada, llamerada, caporales and the recently created tinku. In Colombia one of the typical dances is the cumbia.

Male
Stats
Height: 6'1
Weight: 165 lbs
Date of birth: 05-25-1986

Dance Styles
Sport-dance, ballet, flamenco, hip-hop

Training
2001 - 2006 Kiev Cultural University - Kiev, Ukraine
1993 - 1995 Gennadiy Ivanovich - Dance Club Champions (Ballroom), Nikolaev, Ukraine
1995 - 1997 Puk Vasiliy Vasilyevich - Ballet Dance Studio (Ballet), Nikolaev, Ukraine
1997 - 2002 Ruslan Visockiy - Liga-A - Ballroom - Yalta, Ukraine
2002 - 2003 Dance School Urshka (Seminars) Peter Towsen, Rud Vermay, Barbara Ambrosh, Natasha Ambrosh, and Peter Maxwell, Slovenia

Additional Skills
Sports: soccer, basketball, volleyball, bowling, swimming


Awards
2000 2nd place at Russian Open Championship, Nizniy-Novgorod, Russia
2000 2nd place at International Competition, Sopot, Slovenia
2001 1st place, Championship of Ukraine, Ukraine
2001 6th place, Open Europe Cup, Ukraine
2001 1st place, Open Championship of Canada, Kingston, Canada
2002 2nd place, International Competition, Alasio, Italy
2002 1st place, Champion of Slovenia, Ljubljana, Slovenia
2002 Under 21 received 48 place, Blackpool Dance Festival

Experience
1998 - present Ballroom dance teacher Ukraine/Norwegian Ships
2002 - 2003 Ballroom dancer representing Slovenia
2003 - 2004 Performer at Everland Seoul, South Korea
2004 - 2005 Performer at the Xanadu Resort Hotel, Antalia Belek, Turkey
2006 Norwegian Jewel Cruise Ship, Mediterranean
2006 Norwegian Sun Cruise Ship, Mexico
2007 Norwegian Jewel Cruise Ship, Mediterranean
2008 Norwegian Cruise Ship

Female
Stats
Height:
Weight:
Date of birth: 07-10-1985

Dance Styles
Sport-dance

Training
1996 dance school, Nikolaev, Ukraine
Club "Flamingo" with trainer Victoria Ermakova (Isaeva), a member of the Royal Association of Ball Dancing of Great Britain
1999 seminar with Ralph and Olga Muller, Germany
2001 - 2002 coaching in Yurmala, Latvia with Svetlana Tverianovitch and Sergey Douvanov in Russia
2002 Kiev National University of Culture and Arts, Nikolaev
2004 studied with Agneshka Melnicka and Sergey Surkov, Poland
2004 received the IV category of judgment
2006 rank of Artist of the first Category and higher education in specialty Choreographer; Ballet-master (sport dance).

Awards
May 1996 11 from 38 at a prestige competition in Chernomorskiy Ball, Yugny, Ukraine
June 1996 La -7, St -8 at the V Open Championship of Ukraine in Odessa
October 1997 15 at the World Cup Farmeyshn (Moldavia) and Chisinau Open
March 1998 couples rating with UDSA, and in December became a CMS
1997, 2000, 2001, 2003 winner of regional championships
2001 2nd place at the Open Cup of the Ukrainian Federation.
December 2002 took part in Spartac Cup, Russia
November 2006 1st place in Ahtiar Cup, Sevastopol, Ukraine

Experience
2004 Theater of Dance under the direction of Helen and Oleg Kasiyanov
December 2004 tour in Sicily
April 2005 concert at the embassy of Ukraine in Abu Dhabi, U.A.E.
June 2005 concert at the embassy of Ukraine in Vienna, Austria
July 2005 tour in Hungary
2005 invited to join the Theater of Dance by Folk Artist of Ukraine Vadim Elizarov
March 2006 tour in Israel
April 2006 tour of Hungary
November 2006 tour in Israel
December 2006 - February 2007 tour in China.
February - April 2007 tour in France
May - June 2007 tour in Israel
March - May 2008; June - November 2008 - ballroom dancer on the Norwegian cruise ship.