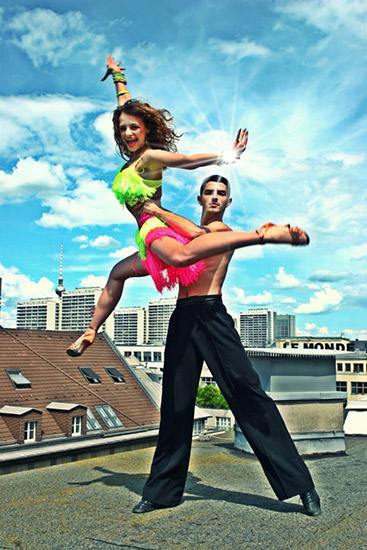 Female
Date of birth: 20.02.1992

Education:

1998-2001 School Nr. 9 in Tiraspol/ Moldova
2002-2005 Grundschule Pforzheim
2005-2010 Gymnasium Pforzheim
2010-2013 Johann-Friedrich Cotta School (Olympic School)

Dance Career:

2003-2005 Regional Champion in Latin and 10 Dances

2005-2008 Finalist of International Competition

2008-2010 Finalist of German Open and Closed Championship

2007-2010 Member of the German National Dance Team

Male
Date of birth: 07.03.1991

Education:

1998-2010 National College "Iosif Vulcan" Oradea, Romania
2010-2012 National College of sport trainers, Bucharest, Romania
2011 Examinated for judging licence 1 level
2012 Examinated for the international dancesport trainers licence

Dance Career:

2004 Romanian junior 2 ballroom national champion, competing at the world championships in Maribor Slovenia for Romania

2006 Romanian youth 10 dance national champion, competing at world championships in Singapore for Romania

2007-2010 Finalist of Romanian championships

2009 4th place of the South European latin championship in Alassio, Italy

Winner of the Romanian Open Championship youth latin in Oradea, Romania

2006-2010 Semifinalist and finalist of many prestigious national and international dance competitions.

2011 oved to Berlin, Germany. Turned professional. Worked as a dance trainer in DIRK HEIDEMANN die Tanzschule and Traumtanzer in Berlin.

2011 Invited to China to teach ballroom couples for 10 days as a second trainer next to international known coach

2012 ogether with Ekaterina, representing Germany danced next to world top couples semifinal place 11 at the German Open Championships.(worlds most famous dance competition)

4th place Rising Star professional latin at German open championship

3rd place at European Championship South American Show Dance held in Luxenbourg with the show called "The dance of Nofretete"

13th place European Championship Professional Latin Valenje, Slovenia

Special guest of "100 years of dancesport in Germany" with the show "The dance of Nofretete"

2013 Invited as 3rd trainer at the Romanian National Training camp next to the international known coaches Hans Galke(Germany) and Karina Rubio(Spain)

2013 Knew partnership with Ilona Kutenko.Both based in Berlin, Germany for the moment.