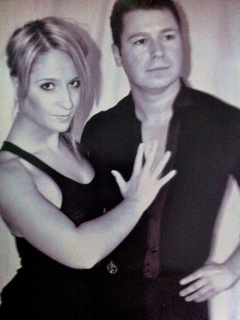 Male
DOB: 29th February 1980
I am a ballroom and Latin dancer and am passionate about performing. I have spent most of my life travelling internationally to compete on the open circuit representing the United Kingdom. I have been fortunate enough that my dancing has lead me to perform in top venues such as the royal Albert hall. I am also keen choreographer and have choreographed many Latin American shows incorporating swing and jazz styles as well as top competitor's routines.
Jobs
May 2011- November 2011- I danced in various hotels and venues around the Cyprus area as well as teaching young children and adult work shops.
Professional - when becoming a professional dancer I took my teachers exam and set my own dance school teaching all levels and age groups. During this time I also became a fully qualified international judge and began to judge competitions on a regular basis, as well as still performing myself in various events and locations.
Amateur - I travelled internationally competing and performing in various shows for corporate, dance school events and exhibitions.
Dancing qualifications
I have studied ball room and Latin dancing and have achieved various qualifications such as:
Latin American - UKA Professional (United Kingdom Alliance)
Ballroom - UKA Professional (United Kingdom Alliance)
Adjudicating - qualified to judge all dancing boards
My experience in performing
I have been performing from a young age and have been lucky enough to coached and metalled by many top professional teachers such as Richard Porter, Donny Burns MBE and Michael Stylianos, All of which are formal world champrions.
My experiences in performing have been many, I have travelled lots in my dancing career and been fortunate enough to perform in some great venues such as The Royal Albert Hall, Bournemouth International Centre, Blackpool Tower, Winter Gardens many venues around Europe.

Female
DOB: 14th June 1989
I have been dancing for 19 years and have always wanted to pursue dance and performing as a career I have studied lots of different styles of dance including tap, ballet, modern, jazz, contemporary, ballroom, latin and rock and roll. I have also studied musical theatre and singing.
Jobs
March 2009-May 2009 Lead dancer in the musical west side story.
September 2009 - March 2010 - Appeared as a dancer/singer in a variety show Magic of muscials.
Summer 2010 contract - I worked for 4Front Entertainment as part of a 6 person show team singing and dancing in various hotels around the paphos area of cyprus for 6 months
summer 2011 contract - paphos cyprus , I was dance captin for a team of 10 held rehearsals and danced in 12 shows per week in hotels around the paphos area. I have also danced in various ballroom and latin shows around Cyprus and have taught for schools and workshops.
Dancing qualifications
I have studied tap, ballet, modern and jazz in the ISTD syllabus for 18 years and have reached.
Ballroom - professional
Latin American - professional
Modern - advanced 1
Tap - advanced 1
Ballet - advanced 1
Jazz - silver jazz
Contemporary - merit
Musical theatre - distinction
I studied the above styles at the Williams School of Dance, and went on to study further at Chichester College where I gained the following further qualifications.
ISTD - teacher's qualification
First Diploma in dance - distinction
National Diploma in dance - distinction
My experience in performing
I have travelled around Europe dancing in Latin American shows as well and competing internationally on the open circuit .
I have performed in numerous dance shows with my dance school. I have performed in shows with the Portsmouth Players and Fareham Players including carousel, The Nutcracker and variety shows. I have been fortunate to perform in many venues such as the Kings Theatre, the London Palladium, the London Hilton, Saddlers Wells and Fernham Hall.