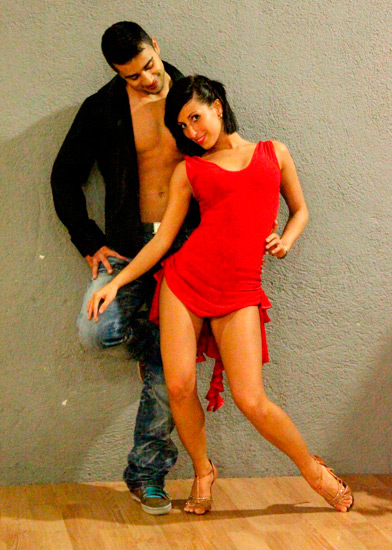 Female
DATE OF BIRTH: 12/6/1991
ARTISTIC TRAINING - Classic "Macarena" in the school (Fuenlabrada, Madrid)
1999-2001 - Flamenco school "Macarena" (Fuenlabrada, Madrid)
1999-2001 - contemporary dance school "La Macarena" (Fuenlabrada, Madrid)
1999-2001 - Ballroom dancing for 11 years in "Tropicana-Interdance" Humanes de Madrid. - dance competition with Valeri Ivanov (Bulgaria), Mauro Rossi (Italia), Olya Karieva (Ucrania), Karina Rubio (España), Victor Nikowski (Rusia), Serena Leka (Italia), Hans Galker (Alemania), Bryan Watson (Ingalterra), Frederic Mossa (Francia), Gurgen (Alemania), Sandra Mossa (Francia), Julie Fyer (Países Bajos), Tom Greeten (Países Bajos), Anton (Rusia ), Mauricio Vescovo (Italia), James Colim (EE.UU.). - one year of musical teather- Low level of singing and interpretation
-TITLES OBTAINED-
Professor of ballroom dancing. Spanish Federation of Dance retro.

- Maximum category A international Latin dances. Spanish Federation of sports and dance competition.
- Maximum category A international standard dances. Spanish Federation of
sports and dance competition.
- Professor of Latin dances. Spanish Association of Teachers of ballroom
dancing. WD & DSC
- Latin Dance Finalist youth category in 2008 and 2009
- Finalist of ten dance 2010 in adult
- Finalist 2011 Adult Latin dance
- Spanish Federation of retro dance
- European Champion 2012 dance category 18-30.
- European Champion 2012 Tango
- Salsa Champion of Europe 2012
- European Champion Dance 2008
PROFESSIONAL EXPERIENCE: - Teacher, coach and choreographer INTERDANCE school of humanes de
Madrid since 2008.
- Teacher, Coach and choreographer of pairs of competition in different regions of Spain. (Madrid, Caceres, Badajoz, Cordoba, Catalonia, Canary Islands and Almeria).
- Professor of kindergartens and nursery schools over Madrid
- Dancer salsa performance group "Feel the show"
- Dancer and cheerleader dance performances throughout Spain

Male
DATE OF BIRTH: 4/9/1985
ARTISTIC TRAINING - classic, contemporany, interpretive dance (for musical teather) dance schools vocational education "Madrid 47" y "EDA" 2007-2010.
Latin dance for 9 years as an artist in Congress circuit different parts of Spain and Europe.
Animator in dance halls throughout Spain, private events, TV clips, commercials ... formed in hip-hop (ragga, popping, locking, house, b-boying, new style, krump...)
large school in Spain as well as in national and international hip-hop for 4 years.
Capoeira for 7 years in Spain and in Brasil participating in shows, competitions, events, TV... also formed in martial arts during the 2004-2009 and gymnastics during the 2010-2011. TITLES OBTAINED
- capoeira: graduate and qualified as a teacher to teach to the highest level.
Latin dance: finalist of Spain 2008 in salsa, finalist of Spain 2009 in bachata, Spainsh Champions 2009 in salsa.
Hip-hop: participating in the group "dance flow" numerous competitions in Spain getting great results.

PROFESSIONAL EXPERIENCE -
Monitor school sports, martial arts Monitor, Monitor room at various gyms. Teacher, coach, director and choreographer of Latin dance, hip-hop, martial arts (Muay Thai, capoeira, boxing ...), acrobatics, in Spain.