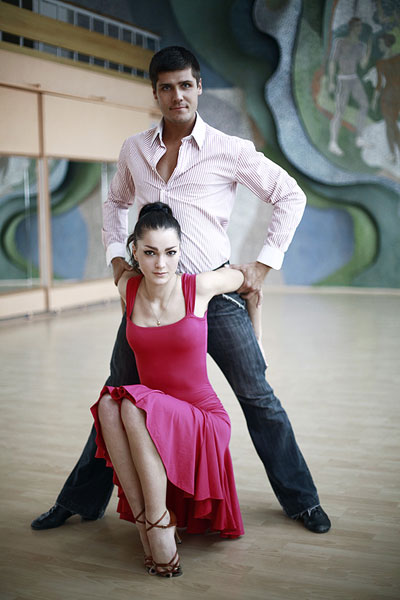 Male

Stats
Date of birth 27.02.1985
Height 187 sm
Weight 82 kg

Dance Styles
Latin Standart

Language: Ukrainian, Russian, English

Dance qualification

From 1994 professionally engaged in ballroom dancing (Latin, Standart)

1999 - champion of Kiev in 10 dances (Latin, Standard)

2000 - possessor of cup "City Major" - Kiev 2000

2001 - candidate in masters of sport in Ballroom dancing

2002 - champion of Ukraine in Latin Formation.

2002 - finalist of championship of Eastern Europe in Latin program (Georgia, Tbilisi)

2004 - semifinalist of international competitions IDSF and IDSA Ballroom dancing in Luxemburg, Amsterdam, Moscow, Warsaw, Vilnius, Vienna.

Finalist of numerous international and regional competitions in Kyiv, Odessa, Kharkov, Donetsk, Dnepropetrovsk, Zaporozhye . Participant of International Latin dance sport championship.

2007 - a trainer and choreographer of fitness club "Fitness Class" (Aerobic, Gym, Dance)

A participant of ballroom dancing camp and preparatory courses in Italy, Russia, Poland, Slovakia, Germany, Czekh.)

Profession: ballroom dancer, ballroom dance trainer

Female

Stats
Height: 173 cm
Weight: 55 kg
Date of birth: 08-28-1988

Dance Styles
Latin-American dances

Training
National University of Physical Education and Sports of Ukraine; Specialty: Olympic and Professional Sports; Specialization: sport dance.

Additional Skills
Dance instructor
Experience
2007 - 2008 Adult Latin and ballroom champions of the Kiev region
2007 Finalist of the WORLD CUP IDU Latin, under 21
7th at the European Championships IDSA Latin, under 21
2006 - 2009 winner of Ukrainian competitions
2007 Latin dance instructor at "Aquarium"

Languages: Fluent English, Russian, Ukrainian. She holds a valid passport and is a Ukrainian national.