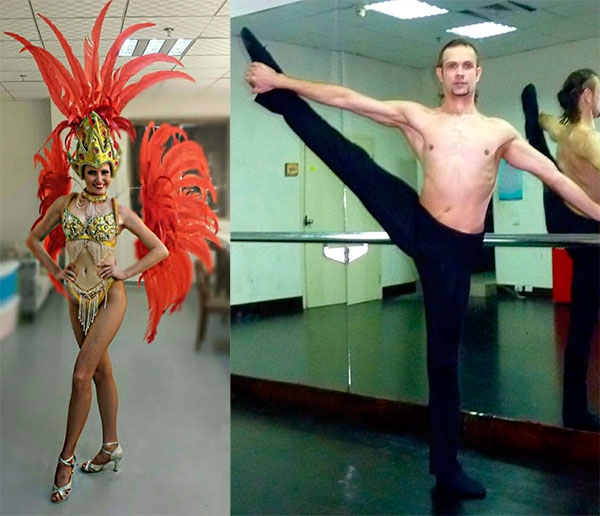 Ievgenii:
Year of Birth - 1981
Height-187 cm
Weight-87 kg

Experience:
01.2016-09.2016 Guian International Grand Theater. China. Dancer
06.2015-10.2015 "Lotte World", Seoul, Korea. Dancer
02.2013-10.2014 "Star Cruises" cruise ship company. Dancer
08.2012-11.2012 m/s "Romantika"(Riga-Stockholm). "Tallink". Estonia.
05.2011-04.2012 Working in "Farglory Ocean Park" as dancer. Hualien. Taiwan.
02.2010-04.2011 Working in show "Window of the world" as dancer. Shenzhen, China.
2004-2010 Dancing in show ballet "Paradise" in restaurants and night clubs, took part in various entertaining actions and model shows in different cities.
1999-2004 Membership of the creative organization "Dance territory", took part in various entertaining actions and festivals. Cooperation with radio station "Europe" as a dancer.
1992-1999 Took lessons of acrobatics, actor's skill, classical, modern and folk dance in the City Palace of Creativity of Children and Young People. Performed in various concerts at many palaces and city concerts.

Sophie:
Year of Birth - 1988
Height-172 cm
Weight-54 kg

Professional Experience:
-2016-Guain International Grand Theatre-Lipan company China-Dance captain/Dancer
-2015-Lotte World Amusment Park-Korea Seoul-Dancer
-2013-2014-Cruise ship contract for 12 months with Star Cruises-Asia/Superstar Aquarius, Superstar Virgo
*3 production shows- lead dancer in Edge of Glory.
*3 topless shows- topless and showgirl.
*Magician assistant for Leslie Mckinny-single assistant working with props.
-2012-Mercedes Benz Auto Expo-India/Modelling for 10 days in Delhi.
-2011 Zenboo Show Gallery 3 months-Tokyo Japan/Principal Dancer in cabaret show both topless and showgirl work.
-2010 Good News Week Television Show-Sydney Australia/Bollywood dancer promoting commonwealth games in India.
*Bastille Day Performance-Sydney Australia
*Showgirl and can can dancer.
-2009 Bollywood contract for 6 months-India
*Several film clips and a self choreographed 60minute show promoting Cherolet Car Launch.
*Sydney ShowBoat 6 month contract-Sydney Australia
*Showgirl and Can Can dancer.
*L.G television launch-Maccau
*Show girl and can can dancer.
-2006-2008 Trained at Ed5 Studios, Brent Street Studios and Queensland Dance School of Excellence completing certificate 5 in performing arts, diploma of classical and contemporary as well as advanced 1 and 2 in R.A.D ballet amongst other achievements.