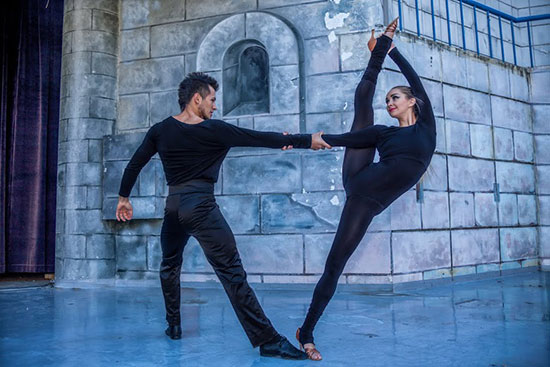 Female:
Date of birth: 12. December 1991
Height: 172cm
Weight: 57kg

EDUCATION:
Shahtinskiy College of Dance 2005-2010
Specialty: Artist of ballet

PROFESSIONAL EXPERIENCE:
-2010-2011 South Korea, High 1 Resorts, Kangwan Land
-2011-2014 South Korea, Seoul Land

Male:
Height 180cm
Date of birth: April 05, 1991.

Education:
-UNIVERSITY: 3 Semesters of Bioengineering in the Universidad de Antioquia.
3 Semesters of Licenciatura en Educacion Basica con enfasis en Educacion, Recreacien y Deportes in the Politecnico Jaime Isaza Cadavid.
-ACADEMIY OF DANCE COMFENALCO (COMPLETED COURSES):
Tropical.
Porro.
Merengue.
Salsa LA Style.
Salsa NY Style. (shines)
Paso Double.
Tango.
Fox Trop.
Bolero.
Bachata.
Milonga.
-RITMO EXTREMO DANCE COMPANY:
Jazz, Ballet, Hip Hop Basic.

PROFESSIONAL EXPERIENCE:
-Salsa Cali Style and Partner Lifts and Tricks for exhibition, By Swing
Latino Dance Company (World Salsa Champions) 2010.
-Salsa On2, Pachanga, Ladies Style, Men Style, Shines by International Dancers, in the Worl Salsa Congress Chile 2011.
-Ballroom, Latin Dance (Rumba and Jive) Basic in South Corea.